Ini adelah entry super belated terperam......huhuuuu memang busy yang amat this week...Ok just want to story mory dalam my virtual diary ni pasal trip kami ke kelantan last weekend... Anak buah cik hubby kawen ngan orang kelantan.. So kami nih kirenye mengantar pengantin ke kelantan la....
So lepas dah setel wedding event, kami pun berjalan2 la sekitar kota bharu...tapi first entry pasal wajibla pasal makan kan...sebab empunye blog memang bab makan laju aje ok! Haha
Biasela hujung2 tahun nih memang musim tengkujuh..so hujan aje hari2 kat sane.... Nak jalan2 sangat pun xboleh sebab hujan lebat....ombak laut pun punyela kuat...suspen plak nengok....
So kalau datang kat tempat orang wajibla try rase makanan diorang kan... First yang kami try adalah "kuih manja"....auwwwww manje gitu hahaha...
Disebabkan x pernah jumpe so wajibla try kan....RM1 untuk sepuluh biji? Super duper murah ok! x tau la abang nih untung ke tidak jual kuih murah2 camni....rase die manis2 sebab ade inti kaya kat dalam nye...memang sedap..nyesal plak beli sikit....
Kat sini memang femes dengan seafood goreng celup tepung nye....sepanjang2 pantai ni ade banyak kedai2 makan yang jual makanan nih...ade ketam,sotong, udang,fishball dan macam2 lagi la....jangan rambang mate udah hihi.....pilih jangan x pilih k...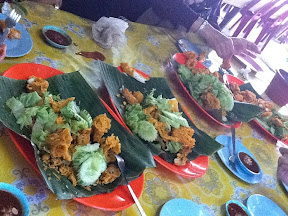 Memang kami kenyang betul petang tuh....yela punyela banyak kitorang makan....huuu so far yang seafood goreng nih rase nye kire boleh laaa... Kene pandai pilih kedai yang mane 1 kot....Sebab yang kami makan nih rase nye biase2 aje....Then kami nak ke wakaf che yeh pulak nak bershopping....
To be continue.....
- Posted using BlogPress from my iPad