31 december haritu befday mak busu saye....so kami beramai2 celebrate befday mak busu kat chinese muslim restaurant Homst seksyen 13 shah alam....
Tapi wajibla beli kek dulu kan....saye beli cake creme brule kat secret recipy..cake baru kat secret recipy and memang boleh tahan sedap nye... Cheese cake tapi x muak sangat macam cheese cake lain yang ade kat secret recipy...
And mase beli tuh die siap tunjuk how they caramelize the cheesecake top.. Jakun jap ahaksss...
Menu kat homst memang wajib ade ayam pandan die la kan... Memang sedap...abis licin ok semua pinggan...xtaula sebab lapar sangat or memang sedap kot hehe....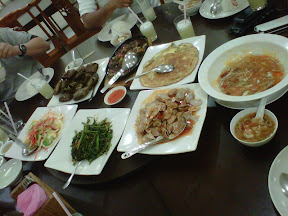 Tapi the kaya desert nih memang wajib makan ok...sedapp!
Nih la die mak busu saye with my sister and cousin...punyela ramai family besar kami tuh sampai kene book 2 meja besar huuu....
Tengokla muke gembira mak busu dapat hadiah hehe....
Happy birthday mak busu! Mmuahhhhhh we all love u busu :)
- Posted using BlogPress from my iPad